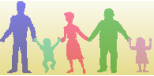 Rabbi Michael Rascoe became our Rabbi in 2014, and

made a seamless transition to our Temple family. He

brought a wealth of knowledge and experience with him

which has strengthened and enriched us in ways that are

tangible as well as intangible.

Born and raised in Pittsburgh, Pennsylvania, he attended a

conservative synagogue where both his parents were quite

active, helping foster a strong bond with his Judaism.

In college, he demonstrated his drive and dedication to the pursuit of knowledge. He

received his B.A. in 1980 from Columbia University in political science, graduating

concurrently from the Jewish Theological Seminary (JTS) with a B.A. in Jewish

philosophy. He attended JTS for graduate school, receiving his M.A. in Jewish philosophy

and becoming ordained as a rabbi in 1985. In addition, he received an honorary doctorate

of divinity from JTS in November, 2011, for his many contributions and accomplishment

during 25 years of service as a rabbi.

Upon the occasion of his honorary doctorate, JTS wrote: "You continue to demonstrate

and teach the transformational powers of Judaism as you touch the lives of many different

communities, championing ethical behavior in all aspects of life."